Definition
Edit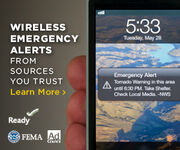 Wireless Emergency Alerts (WEA) are
Background
Edit
"WEA was established in response to the Warning, Alert, and Response Network Act passed by Congress in 2006. The Federal Communications Commission proposed and adopted the network structure, operational procedures, and technical requirements for WEA in 2007 and 2008, in cooperation with commercial wireless providers. Subsequently, the Department of Homeland Security Science and Technology Directorate and the Federal Emergency Management Agency have worked with the wireless carriers on deployment and testing of the system. The present design supports only 140-character messages and messages that fit into a single cell broadcast."[2]
Overview
Edit
WEAs looks like a text message. The WEA message will show the type and time of the alert, any action you should take, and the agency issuing the alert. The message will be no more than 90 characters. WEA messages include a special tone and vibration, both repeated twice.
References
Edit
↑ Federal Emergency Management Agency, Wireless Emergency Alerts (full-text).
See also
Edit
Ad blocker interference detected!
Wikia is a free-to-use site that makes money from advertising. We have a modified experience for viewers using ad blockers

Wikia is not accessible if you've made further modifications. Remove the custom ad blocker rule(s) and the page will load as expected.