Citation
Edit
NSTAC, Vulnerabilities Task Force Report Concentration of Assets: Telecom Hotels (Feb. 12, 2003) (full-text).
Overview
Edit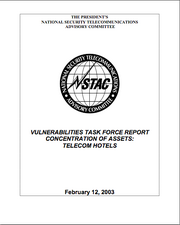 This report addresses the Administration's concerns that the concentration of telecommunications assets in telecom hotels may have implications for the security and reliability of the telecommunications infrastructure.
The NSTAC recommends that the President direct the appropriate departments and agencies to fund and undertake the following —
Ad blocker interference detected!
Wikia is a free-to-use site that makes money from advertising. We have a modified experience for viewers using ad blockers

Wikia is not accessible if you've made further modifications. Remove the custom ad blocker rule(s) and the page will load as expected.