Citation
Edit
California Geographic Information Systems Task Force, Visualizing California: A Strategy for Enhanced Decision-making Tools for Public Policy Makers and the Public (Sept. 1, 2008) (full-text).
Overview
Edit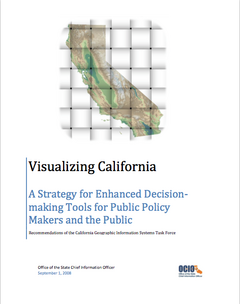 The power of GIS lies in its ability to allow decision makers and the public to readily visualize and manipulate differing types of information in terms of both place and time. The ability to make on-going, accurate, timely, data-informed decisions in these dynamic and long-term policy areas is critical to California's economy and the health and safety of its citizens.
The recommendations contained in this report will help California meet the policy needs stated above. The implementation of these recommendations will allow California to take full advantage of the potential of GIS technology by (1) establishing leadership for GIS within California, (2) obtaining and maintaining more robust GIS data and (3) cost effectively investing in more integrative and dynamic GIS tools that will make this technology more relevant and useful to decision makers and the public.
Ad blocker interference detected!
Wikia is a free-to-use site that makes money from advertising. We have a modified experience for viewers using ad blockers

Wikia is not accessible if you've made further modifications. Remove the custom ad blocker rule(s) and the page will load as expected.