Citation
Edit
U.S. Department of Defense, Unmanned Systems Integrated Roadmap FY2011-2036 (2013) (full-text).
Overview
Edit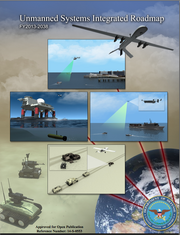 The purpose of this Roadmap is to articulate a vision and strategy for the continued development, production, test, training, operation, and sustainment of unmanned systems technology across DoD. This Roadmap establishes a technological vision for the next 25 years and outlines actions and technologies for DoD and industry to pursue to intelligently and affordably align with this vision.
Ad blocker interference detected!
Wikia is a free-to-use site that makes money from advertising. We have a modified experience for viewers using ad blockers

Wikia is not accessible if you've made further modifications. Remove the custom ad blocker rule(s) and the page will load as expected.