Overview
Edit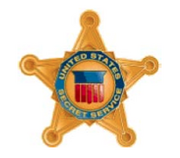 The United States Secret Service (USSS) serves a dual mission of (1) protecting the nation's financial infrastructure and payment systems to safeguard the economy and (2) protecting national leaders.[1]
In carrying out the former part of this mission, the USSS is responsible for investigating the counterfeiting of currency and securities; forgery and altering of government checks and bonds; thefts and fraud relating to Treasury electronic funds transfers; financial access, telecommunications, computer, and telemarketing fraud; fraud concerning federally insured financial institutions; and other criminal and noncriminal cases.
The Secret Service has 35 Financial Crimes Task Forces and 24 Electronic Fraud Task Forces that investigate identity theft, among with numerous other crimes.[2]
References
Edit
↑

18 U.S.C. §3056.

↑ The USSS also led the investigation of the largest identity theft case prosecuted yet in the United States; the case involved 11 criminals from at least five different countries and the sale of more than 40 million credit and debit card numbers from U.S. retailers including TJX Companies, BJ's Wholesale Club, OfficeMax, Boston Market, Barnes & Noble, Sports Authority, Forever 21, and DSW. The defendants were charged with conspiracy and related crimes including aggravated identity theft, unlawful access to computer systems, wire fraud, access device fraud, and money laundering. For more information, see the United States Secret Service, "Additional Indictments Announced in Ongoing Secret Service Network Intrusion Investigation," press release, Aug. 5, 2008.A15-08_CyberIndictments_Final.pdf
Ad blocker interference detected!
Wikia is a free-to-use site that makes money from advertising. We have a modified experience for viewers using ad blockers

Wikia is not accessible if you've made further modifications. Remove the custom ad blocker rule(s) and the page will load as expected.