Citation
Edit
U.S. Coast Guard, United States Coast Guard Cyber Strategy (June 16, 2015) (full-text).
Overview
Edit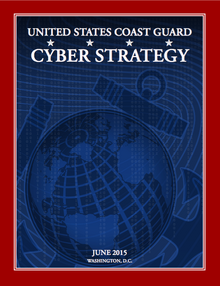 Among the concrete objectives is development of formal guidance for commercial vessel and waterfront facility operators on evaluating cybersecurity vulnerabilities, which the U.S. Coast Guard began in January 2015, when it kicked off a public process that will result in issuance of a Navigation and Vessel Inspection Circular. The document details how cybersecurity will become an element of the Maritime Transportation Security Act of 2002 (Pub. L. No. 107-295) enforcement.
Ad blocker interference detected!
Wikia is a free-to-use site that makes money from advertising. We have a modified experience for viewers using ad blockers

Wikia is not accessible if you've made further modifications. Remove the custom ad blocker rule(s) and the page will load as expected.