Citation
Edit
U.S. Department of Defense, Office of the DoD Chief Information Officer, Unified Capabilities Requirements 2013 (UCR 2013) (Jan. 2013) (full-text).
Overview
Edit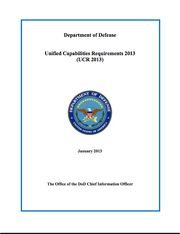 This publication specifies the technical requirements for certification of approved products to be used in DoD networks to provide end-to-end Unified Capabilities (UC). This document supersedes UCR 2008, Change 3.
The UCR is based on commercial off-the-shelf (COTS) products' features, standards listed in the DoD Information Technology Standards Registry (DISR), and unique requirements needed to support DoD mission-critical needs.