Overview
Edit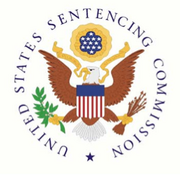 The United States Sentencing Commission was created by the Sentencing Reform Act provisions of the Comprehensive Crime Control Act of 1984. It is an independent agency in the judicial branch of the federal government. Its principal purposes are: (1) to establish sentencing policies and practices for the federal courts, including guidelines to be consulted regarding the appropriate form and severity of punishment for offenders convicted of federal crimes; (2) to advise and assist Congress and the executive branch in the development of effective and efficient crime policy; and (3) to collect, analyze, research, and distribute a broad array of information on federal crime and sentencing issues, serving as an information resource for Congress, the executive branch, the courts, criminal justice practitioners, the academic community, and the public.
Ad blocker interference detected!
Wikia is a free-to-use site that makes money from advertising. We have a modified experience for viewers using ad blockers

Wikia is not accessible if you've made further modifications. Remove the custom ad blocker rule(s) and the page will load as expected.