Citation
Edit
Director of National Intelligence, U.S. National Intelligence: An Overview 2013 (Apr. 2013) (full-text).
Overview
Edit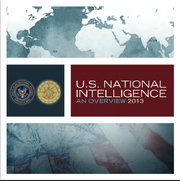 This overview, sponsored by the Intelligence Community Information Sharing Executive, is designed to help people across the Government better understand and navigate the Intelligence Community (IC), leading to improved collaboration and coordination between and with the IC and with the rest of the Federal Government.
Ad blocker interference detected!
Wikia is a free-to-use site that makes money from advertising. We have a modified experience for viewers using ad blockers

Wikia is not accessible if you've made further modifications. Remove the custom ad blocker rule(s) and the page will load as expected.