Overview
Edit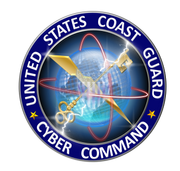 The U.S. Coast Guard Cyber Command plans, coordinates, integrates, synchronizes and conducts activities to: direct operations and defense of the USCG Area of Operations (AO) on the Department of Homeland Security (DHS) OneNet, Department of Defense (DoD) Global Information Grid (GIG) and other USCG Cyberspace AOs; prepares to, and when directed, conduct operations to defend, exploit and attack adversaries in and through cyberspace IOT enable actions in all domains, ensure CG, DHS, and DoD freedom of action in cyberspace and to deny the same to our adversaries.
Ad blocker interference detected!
Wikia is a free-to-use site that makes money from advertising. We have a modified experience for viewers using ad blockers

Wikia is not accessible if you've made further modifications. Remove the custom ad blocker rule(s) and the page will load as expected.