Citation
Edit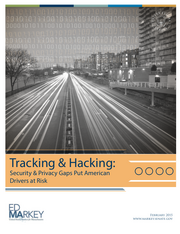 Senator Edward Mackey Staff Report, Tracking & Hacking: Security & Privacy Gaps Put American Drivers at Risk (Feb. 2015) (full-text).
Overview
Edit
Nearly all modern vehicles have some sort of wireless connection that hackers could potentially use to gain access to their critical systems. The company's protections on those connections are "inconsistent and haphazard" across the industry. In addition to security weaknesses, the report also found that many auto companies are collecting detailed location data from cars and often transmitting it insecurely.
Ad blocker interference detected!
Wikia is a free-to-use site that makes money from advertising. We have a modified experience for viewers using ad blockers

Wikia is not accessible if you've made further modifications. Remove the custom ad blocker rule(s) and the page will load as expected.