Citation
Edit
National Recording Preservation Board, The State of Recorded Sound Preservation in the United States: A National Legacy at Risk in the Digital Age (Aug. 2010) (full-text).
Overview
Edit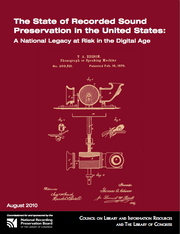 The study is a landmark achievement in the history of the archival preservation of audiovisual materials. This study indicates that major areas of America's recorded sound heritage have already been destroyed or remain inaccessible to the public. It suggests that the lack of conformity between federal and state laws may adversely affect the long-term survival of pre-1972-era sound recordings in particular. And, it warns that the continued lack of national coordination among interested parties in the public and private sectors, in addressing the challenges in preservation, professional education and public access, may not yet be arresting permanent loss of irreplaceable sound recordings in all genres.
Ad blocker interference detected!
Wikia is a free-to-use site that makes money from advertising. We have a modified experience for viewers using ad blockers

Wikia is not accessible if you've made further modifications. Remove the custom ad blocker rule(s) and the page will load as expected.