Citation
Edit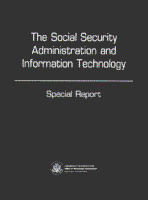 Office of Technology Assessment, The Social Security Administration and Information Technology (Oct. 1986) (full-text).
Overview
Edit
The Social Security Administration in 1982 announced its Systems Modernization Plan (SMP), designed to restructure and extensively upgrade its data-handling systems. The agency told Congress that, without this major upgrading, there might be serious disruption of its services, which are essential to the welfare of millions of Americans.
The SMP was one of the most expensive civilian information projects ever undertaken; it has since become a "rolling" 5-year plan with projected costs currently estimated at nearly $1 billion.
The disruption of services that the Social Security Administration feared in 1982 has been averted, but the SMP and its implementation have been the subject of continuing controversy and criticism within the Administration and in congressional oversight committees. The Social Security Administration has scheduled major procurements in fiscal year 1987 that are central to implementation of SMP.
In this special report, OTA examineD the objectives and technical strategies embodied in the SMP and the progress that the Social Security Administration has made toward its implementation. The report calls attention to some general problems faced by both SSA and other Federal agencies that are increasingly dependent on communications and information technology in carrying out their missions.
Ad blocker interference detected!
Wikia is a free-to-use site that makes money from advertising. We have a modified experience for viewers using ad blockers

Wikia is not accessible if you've made further modifications. Remove the custom ad blocker rule(s) and the page will load as expected.