Citation
Edit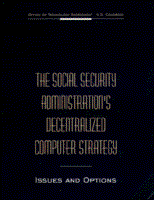 Office of Technology Assessment, The Social Security Administration's Decentralized Computer Strategy: Issues and Options (OTA-TCT-592) (Apr. 1994) (full-text).
Overview
Edit
This report provides Congress with OTA's evaluation of SSA's decentralized computer strategy and service delivery planning. It offers a range of congressional options for funding SSA's technology modernization, including possible benchmarks and milestones to help SSA achieve a higher return on its information technology investments. The report highlights some of the opportunities and challenges faced by a major federal agency in: 1) implementing the Administration's "National Performance Review"** and "National Information Infrastructure" programs, and 2) addressing issues raised in OTA's 1993 report Making Government Work: Electronic Delivery of Federal Services.
Ad blocker interference detected!
Wikia is a free-to-use site that makes money from advertising. We have a modified experience for viewers using ad blockers

Wikia is not accessible if you've made further modifications. Remove the custom ad blocker rule(s) and the page will load as expected.