Citation
Edit
Future of Scholarly Communication: Building the Infrastructure for Cyberinfrastructure: Report of the April 17, 2007 workshop sponsored by the National Science Foundation (NSF) and the Joint Information Systems Committee (JISC) of the United Kingdom (Sept. 26, 2007) (full-text).
Overview
Edit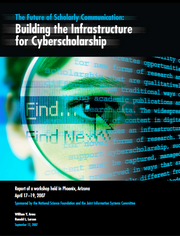 This is a report of a workshop held in Phoenix, Arizona, April 17-19, 2007. The objective of the workshop was to build on the findings of recent cyberinfrastructure reports to identify opportunities and strategies for managing information created and used by researchers and scholars in the sciences, social sciences, and the humanities. Participants included representatives from Europe and the United States with affiliations in government, higher education, industry, and private foundations.
Ad blocker interference detected!
Wikia is a free-to-use site that makes money from advertising. We have a modified experience for viewers using ad blockers

Wikia is not accessible if you've made further modifications. Remove the custom ad blocker rule(s) and the page will load as expected.