Citation
Edit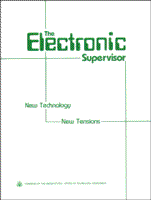 Office of Technology Assessment, The Electronic Supervisor: New Technology, New Tensions (Sept. 1987) (full-text).
Overview
Edit
This report deals with the use of computer-based technologies to measure how fast or how accurately employees work. New computer-based office systems are giving employers new ways to supervise job performance and control employees' use of telephones, but such systems are also controversial because they generate such detailed information about the employees they monitor. This assessment explores a broad range of questions related to the use of new technology in the workplace and its effects on privacy, civil liberties, and quality of working life.
Ad blocker interference detected!
Wikia is a free-to-use site that makes money from advertising. We have a modified experience for viewers using ad blockers

Wikia is not accessible if you've made further modifications. Remove the custom ad blocker rule(s) and the page will load as expected.