Citation
Edit
U.S. Department of Commerce, The Economics of Y2K and the Impact on the United States (Nov. 17, 1999) (full-text).
Overview
Edit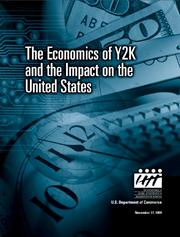 This study assesses the economic implications of Y2K on the U.S. economy at the request of the President's Council on Year 2000 Conversion.
Ad blocker interference detected!
Wikia is a free-to-use site that makes money from advertising. We have a modified experience for viewers using ad blockers

Wikia is not accessible if you've made further modifications. Remove the custom ad blocker rule(s) and the page will load as expected.