Citation
Edit
Federal Trade Commission, The Big Picture: Comprehensive Online Data Collection (Dec. 6, 2012) (full-text).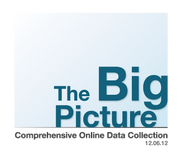 Overview
Edit
Consumer protection organizations, academics, business and industry representatives, privacy professionals, and others participated in a workshop where they examined the technological landscape, benefits and risks, consumer knowledge and attitude, and the future of comprehensive data collection.
Ad blocker interference detected!
Wikia is a free-to-use site that makes money from advertising. We have a modified experience for viewers using ad blockers

Wikia is not accessible if you've made further modifications. Remove the custom ad blocker rule(s) and the page will load as expected.