Definition
Edit
Technology readiness levels are
Overview
Edit
"TRLs are a scale of nine levels used to measure a technology's progress, starting with paper studies of a basic concept and ending with a technology that has proven itself in actual usage on the product."[2] "The scale consists of nine levels, each one requiring the technology to be demonstrated in incrementally higher levels of fidelity in terms of its form, the level of integration with other parts of the system, and its operating environment than the previous, until at the final level the technology is described in terms of actual system performance in an operational environment."[3]
"Experts agree that TRLs are the most common measure for systematically communicating the readiness of new technologies or new applications of existing technologies to be incorporated into a product. Other readiness level measures (for example manufacturing readiness levels) have been proposed with varying degrees of success and use throughout the lifecycle of a program."[4]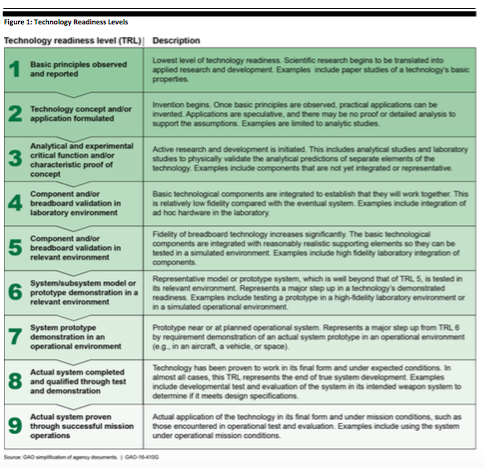 References
Edit
Ad blocker interference detected!
Wikia is a free-to-use site that makes money from advertising. We have a modified experience for viewers using ad blockers

Wikia is not accessible if you've made further modifications. Remove the custom ad blocker rule(s) and the page will load as expected.