Citation
Edit
Blue Ribbon Task Force on Sustainable Digital Preservation and Access, Sustaining the Digital Investment: Issues and Challenges of Economically Sustainable Digital Preservation (Dec. 2008) (full-text).
Overview
Edit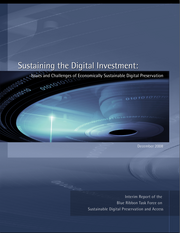 In this Interim Report, the Task Force traced the contours of digital preservation as an economic activity: that is, one where decision makers must make explicit and ongoing resource allocations in order to achieve long-term goals. The report offered a definition of economic sustainability in a digital preservation context, citing the conditions that must be met if digital preservation activities are to be economically sustainable over time.
The report then examined a number of issues, challenges, and lessons learned, both institutional and systemic, attached to meeting these conditions, based on the testimony of speakers representing a broad swath of the digital preservation community, a review of published work and the expertise of the Task Force membership.
See also
Edit
Ad blocker interference detected!
Wikia is a free-to-use site that makes money from advertising. We have a modified experience for viewers using ad blockers

Wikia is not accessible if you've made further modifications. Remove the custom ad blocker rule(s) and the page will load as expected.