Citation
Edit
Blue Ribbon Task Force on Sustainable Digital Preservation and Access, Sustainable Economics for a Digital Planet: Ensuring Long-Term Access to Digital Information (Feb. 2010) (full-text).
Overview
Edit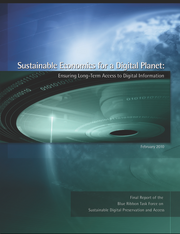 The Task Force focused its inquiry on materials that are of long-term public interest, looking at four content domains with diverse preservation profiles:
Scholarly discourse: the published output of scholarly inquiry
Research data: the primary inputs into research, as well as the first-order results of that research
Commercially owned cultural content: culturally significant digital content that is owned by a private entity and is under copyright protection; and
Collectively produced Web content: Web content that is created interactively, the result of collaboration and contributions by consumers.
Economic analysis of digital preservation of these materials reveals structural challenges that affect all digital preservation strategies: (1) long time horizons, (2) diffused stakeholders, (3) misaligned or weak incentives, and (4) lack of clarity about roles and responsibilities among stakeholders. These risks, once identified, can be anticipated and provided for throughout the digital lifecycle.
See also
Edit
Ad blocker interference detected!
Wikia is a free-to-use site that makes money from advertising. We have a modified experience for viewers using ad blockers

Wikia is not accessible if you've made further modifications. Remove the custom ad blocker rule(s) and the page will load as expected.