Strategic Alliance Cyber Crime Working Group
Talk

0
Share
Ad blocker interference detected!
Wikia is a free-to-use site that makes money from advertising. We have a modified experience for viewers using ad blockers

Wikia is not accessible if you've made further modifications. Remove the custom ad blocker rule(s) and the page will load as expected.
Overview
Edit
The Strategic Alliance Cyber Crime Working Group consists of five law enforcement organizations:
that work together to fight cybercrime in a synergistic way by sharing intelligence, swapping tools and best practices, and strengthening and even synchronizing their respective laws. The group is an outgrowth of the larger Strategic Alliance Group — a formal partnership between these nations dedicated to tackling larger global crime issues, particularly organized crime.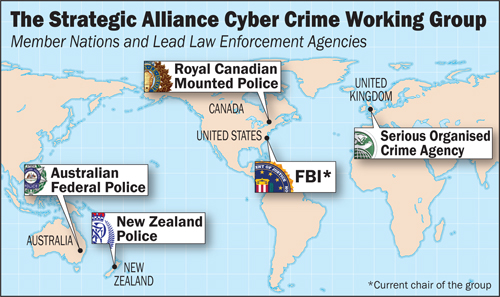 Activities
Edit
Among the group's activities: