Citation
Edit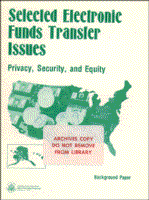 Office of Technology Assessment, Selected Electronic Funds Transfer Issues: Privacy, Security, and Equity (Mar. 1982) (full-text).
Overview
Edit
The Senate Committee on the Judiciary indicated an interest in possible implications of EFT for privacy, security, and equity, among other issue areas. In response, OTA initiated a preliminary analysis of relevant EFT developments since the completion of the work of the National Commission on Electronic Funds Transfer. Several working papers were prepared by OTA staff and contractors. These were reviewed by a special advisory panel on EFT representing financial, business, academic, and consumer interests. On the basis of that review, a revised and integrated paper was prepared.
Ad blocker interference detected!
Wikia is a free-to-use site that makes money from advertising. We have a modified experience for viewers using ad blockers

Wikia is not accessible if you've made further modifications. Remove the custom ad blocker rule(s) and the page will load as expected.