Overview
Edit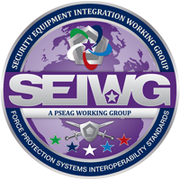 The Security Equipment Integration Working Group (SEIWG) is a permanent working group of the Department of Defense (DoD) Physical Security Enterprise & Analysis Group (PSEAG). The SEIWG's mission is to coordinate and influence system architecture, technical design, and systems integration of all physical security equipment to be used within the DoD. SEIWG's strategy for addressing general and specific Service/Agency Physical Security Equipment (PSE) requirements includes:
SEIWG has four (4) main goals for establishing its Service/Agency approach to PSE:
The SEIWG strives to accomplish a cohesive and collaborative environment. The SEIWG offers Subject Matter Expert (SME) support to aid services/programs who are implementing SEIWG Interoperability Standards and offers the SEIWG Interoperability verification Tool (SIV-T) for the Joint DoD Services' use to determine if their physical security equipment is in compliance with the SEIWG's suite of standards.
See also
Edit
Ad blocker interference detected!
Wikia is a free-to-use site that makes money from advertising. We have a modified experience for viewers using ad blockers

Wikia is not accessible if you've made further modifications. Remove the custom ad blocker rule(s) and the page will load as expected.