Citation
Edit
Open Government Partnership, Second U.S. Open Government National Action Plan (Dec. 5, 2013) (full-text).
Overview
Edit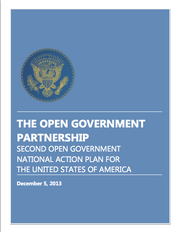 This report documents the Obama Administration's efforts to fulfill the commitments made in the Open Government Partnership: National Action Plan in 2011. This document will serve as a roadmap for the next two years as the Administration works in partnership with the public and civil society organizations to carry forth these Open Government efforts.
Ad blocker interference detected!
Wikia is a free-to-use site that makes money from advertising. We have a modified experience for viewers using ad blockers

Wikia is not accessible if you've made further modifications. Remove the custom ad blocker rule(s) and the page will load as expected.