Definition
Edit
A scroll box (also called a scroll bar) is a graphical object in a GUI with which continuous text, pictures or anything else can be scrolled, including time in video applications, i.e., viewed even if it does not fit into the space in a computer display, window, or viewport.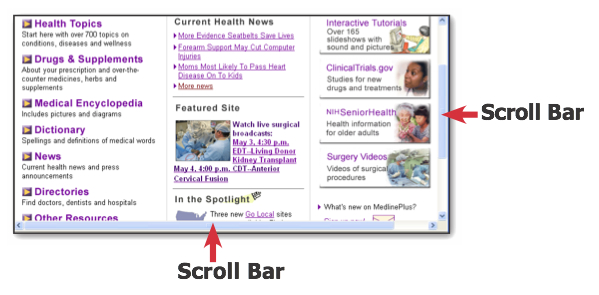 Overview
Edit
Usually designed as a long rectangular area on one or two sides of the viewing area, containing a bar (or thumb) that can be dragged along a trough (or track) to move the body of the document as well as two arrows on either end for precise adjustments.
Ad blocker interference detected!
Wikia is a free-to-use site that makes money from advertising. We have a modified experience for viewers using ad blockers

Wikia is not accessible if you've made further modifications. Remove the custom ad blocker rule(s) and the page will load as expected.