Citation
Edit
National Science Board, Science and Engineering Infrastructure for the 21st Century: The Role of the National Science Foundation (Feb. 6, 2003) (full-text).
Overview
Edit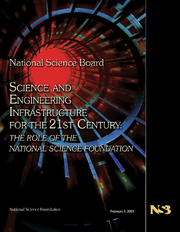 The purpose of this study was to assess the current state of U.S. science and engineering (S&E) academic research infrastructure, examine its role in enabling science and engineering advances, and identify requirements for a future infrastructure capability of appropriate quality and size to ensure continuing U.S. S&E leadership.
The report aimed to inform the national dialogue on S&E infrastructure and highlighted the role of NSF as well as the larger resource and management strategies of interest to Federal policymakers in both the executive and legislative branches.
Ad blocker interference detected!
Wikia is a free-to-use site that makes money from advertising. We have a modified experience for viewers using ad blockers

Wikia is not accessible if you've made further modifications. Remove the custom ad blocker rule(s) and the page will load as expected.