Definitions
Edit
SATCOM is an acronym for satellite communications
SATCOM is also the name of a family of communications satellites originally developed and operated by RCA American Communication, and later passed to General Electric with its purchase of RCA in 1986.
SATCOM systems are
Overview
Edit
SATCOM systems normally consist of three segments.
(a) Space segment (military or leased commercial satellites).
(b) Terminal segment (fixed and deployable terminals).
(c) Control segment (hardware distributed among control centers, satellites and terminals, and software to evaluate the status of the system stations and capable of monitoring, operating, and positioning the satellite, near real time allocation of satellite power, antenna orientation/nulling, and terminal monitoring and control).[2]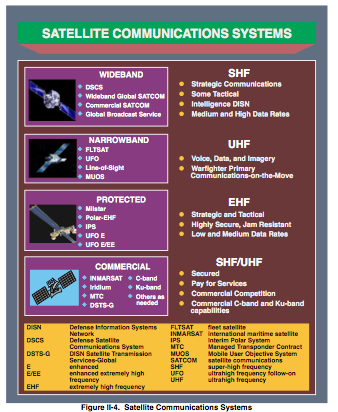 References
Edit
↑ Joint Publication 6-0, at II-10.