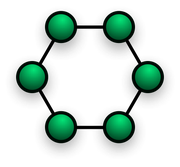 Definition
Edit
A ring network (also called a ring topology) is a network topology in which each node connects to exactly two other nodes, forming a single continuous pathway for signals through each node — a ring. Data travels from node to node, with each node along the way handling every packet.
Overview
Edit
Because a ring topology provides only one pathway between any two nodes, ring networks may be disrupted by the failure of a single link. A node failure or cable break might isolate every node attached to the ring. FDDI networks overcome this vulnerability by sending data on a clockwise and a counterclockwise ring: in the event of a break data is wrapped back onto the complementary ring before it reaches the end of the cable, maintaining a path to every node along the resulting "C-Ring".
Ad blocker interference detected!
Wikia is a free-to-use site that makes money from advertising. We have a modified experience for viewers using ad blockers

Wikia is not accessible if you've made further modifications. Remove the custom ad blocker rule(s) and the page will load as expected.