Citation
Edit
National Security Telecommunications Advisory Committee, Report on National Security and Emergency Preparedness Internet Protocol-Based Traffic (Nov. 6, 2008) (full-text).
Overview
Edit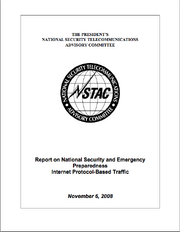 NSTAC examined the risk, if any, to IP-based NS/EP communications traffic, including VoIP, during times of perceived abnormal conditions or network duress. NSTAC studied if network degradation or disruption could affect the receipt or delivery of NS/EP traffic and, if so, what recommendations the NSTAC would make to the President regarding measures to ensure the delivery of IP-based NS/EP traffic during times of network duress.
To conduct its analysis, the NSTAC examined how service providers transport IP-based traffic across their networks and how they shared data regarding their ability to manage traffic end-to-end. The NSTAC also examined how carriers and service providers offer managed services to meet the requirements of their enterprise customers, including some NS/EP authorized users.
The NSTAC recommended that the President should:
In the short term, establish a policy that requires Federal departments and agencies to:
Ad blocker interference detected!
Wikia is a free-to-use site that makes money from advertising. We have a modified experience for viewers using ad blockers

Wikia is not accessible if you've made further modifications. Remove the custom ad blocker rule(s) and the page will load as expected.