Citation
Edit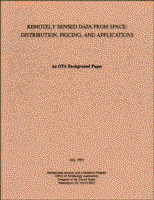 Office of Technology Assessment, Remotely Sensed Data From Space: Distribution, Pricing, and Applications (July 1992) (full-text).
Overview
Edit
This background paper summarizes the discussions from a one-day workshop convened by the OTA on May 20, 1992, concerning data pricing and distribution from the Landsat land remote sensing satellite program. It does not discuss the broader policy issues regarding commercialization of land remote sensing and the benefits and drawbacks of the decision to assign responsibility for the operation of Landsat 7 to the DoD and NASA.
Ad blocker interference detected!
Wikia is a free-to-use site that makes money from advertising. We have a modified experience for viewers using ad blockers

Wikia is not accessible if you've made further modifications. Remove the custom ad blocker rule(s) and the page will load as expected.