Citation
Edit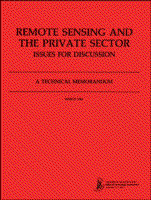 Office of Technology Assessment, Remote Sensing and the Private Sector: Issues for Discussion (Mar. 1984) (full-text).
Overview
Edit
This technical memorandum was designed to help Congress determine the appropriate requirements and conditions for private sector ownership of the U.S. land remote-sensing system (Landsat). It also provides information and analysis that will be useful for Congress as it considers transfer legislation.
Ad blocker interference detected!
Wikia is a free-to-use site that makes money from advertising. We have a modified experience for viewers using ad blockers

Wikia is not accessible if you've made further modifications. Remove the custom ad blocker rule(s) and the page will load as expected.