Citation
Edit
Department of Homeland Security, Control Systems Security Program, National Cyber Security Division, Recommended Practice: Developing an Industrial Control Systems Cybersecurity Incident Response Capability (October 2009) (full-text).
Overview
Edit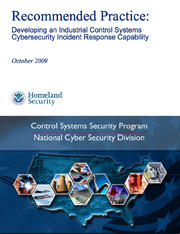 This document provides recommendations for those interested in protecting industrial control systems (ICS) within a facility or organization. It is primarily focused on preparing for and responding to a cyber-related incident in which ICS are either threatened or compromised. It discusses ways of preparing for and preventing an incident as well as ways to respond, analyze, and recover from one should it occur.
Ad blocker interference detected!
Wikia is a free-to-use site that makes money from advertising. We have a modified experience for viewers using ad blockers

Wikia is not accessible if you've made further modifications. Remove the custom ad blocker rule(s) and the page will load as expected.