Citation
Edit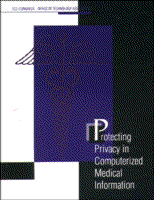 U.S. Congress, Office of Technology Assessment, Protecting Privacy in Computerized Medical Information (OTA-TCT-576) (Sept. 1993) (full-text).
Overview
Edit
This study was requested by the Senate Subcommittee on Federal Services, Post Office, and Civil Service, and the House Subcommittee on Government Information, Justice, and Agriculture. The Subcommittees asked the assistance of the Office of Technology Assessment in confronting the issue of confidentiality of health care information in a fully automated medical environment.
In its analysis, the report examines: 1) the nature of the privacy interest in health care information and the current state of the law protecting that information; 2) the nature of proposals to computerize health care information and the technologies available to both computerize and protect privacy in the information; and 3) models for protection of health care information.
Ad blocker interference detected!
Wikia is a free-to-use site that makes money from advertising. We have a modified experience for viewers using ad blockers

Wikia is not accessible if you've made further modifications. Remove the custom ad blocker rule(s) and the page will load as expected.