Citation
Edit
California Department of Justice, Office of the Attorney General, Privacy on the Go: Recommendations for the Mobile Ecosystem (Jan. 2013) (full-text).
Overview
Edit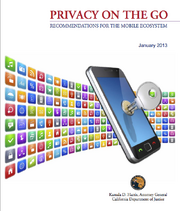 This set of privacy practice recommendations are intended to assist app developers, and others, in considering privacy early in the development process. The agency arrived at these recommendations after consulting a broad spectrum of stakeholders: mobile carriers, device manufacturers, operating system developers, app developers, app platform providers, Mobile advertising networks, security and privacy professionals, technologists, academics, and privacy advocates.
Ad blocker interference detected!
Wikia is a free-to-use site that makes money from advertising. We have a modified experience for viewers using ad blockers

Wikia is not accessible if you've made further modifications. Remove the custom ad blocker rule(s) and the page will load as expected.