Citation
Edit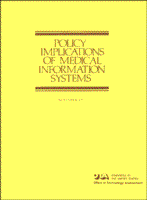 Office of Technology Assessment, Policy Implications of Medical Information Systems (Dec. 1977) (full-text).
Overview
Edit
This report provides a balanced and impartial assessment of the policy implications of computer-based medical information systems.
The report begins with a summary of the findings and conclusions and the alternative policies that could be pursued. Chapter 2 provides a perspective for the assessment. Three different kinds of medical information systems that were examined are described in chapter 3. Chapter 4 discusses the implications of these systems on such areas of concern as quality of medical care, clinical decision-making, malpractice litigation, and confidentiality of data about patients. Chapters considers the factors that influence the diffusion and use of information systems in the medical field. In conclusion, chapter 6 considers a range of policy alternatives for maximizing the benefits of information systems.
Ad blocker interference detected!
Wikia is a free-to-use site that makes money from advertising. We have a modified experience for viewers using ad blockers

Wikia is not accessible if you've made further modifications. Remove the custom ad blocker rule(s) and the page will load as expected.