Overview
Edit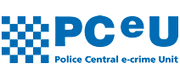 The Police Central e-crime Unit (PCeU) is jointly fund by the U.K. Home Office and Metropolitan Police to provide a national investigative response to the most serious incidents of cybercrime. The PCeU acts as the central unit for U.K. policing on promotion of standards for training, procedure and response to e-crime, and has brought together forces, the NPIA and other groups to develop training and to coordinate activity to build up the skill levels within policing.
The Unit tackles those responsible for the most serious incidents of:
This excludes:
Ad blocker interference detected!
Wikia is a free-to-use site that makes money from advertising. We have a modified experience for viewers using ad blockers

Wikia is not accessible if you've made further modifications. Remove the custom ad blocker rule(s) and the page will load as expected.