Overview
Edit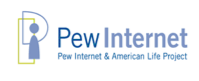 The Pew Internet & American Life Project is one of seven projects that make up the Pew Research Center — a nonpartisan, nonprofit "fact tank" that provides information on the issues, attitudes and trends shaping America and the world.
The Project produces reports exploring the impact of the internet on families, communities, work and home, daily life, education, health care, and civic and political life. It collects data through public opinion polling, social science research, forums and briefings. The Project also publishes reports on its research findings but does not take policy positions on the issues that it researches.
Support for the Project is provided by The Pew Charitable Trusts.
See also
Edit
Ad blocker interference detected!
Wikia is a free-to-use site that makes money from advertising. We have a modified experience for viewers using ad blockers

Wikia is not accessible if you've made further modifications. Remove the custom ad blocker rule(s) and the page will load as expected.