Citation
Edit
Executive Office of the President, Patent Assertion and U.S. Innovation (June 2013) (full-text).
Overview
Edit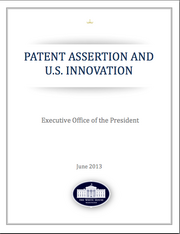 This report looks at firms who do not practice the patents they own and instead engage in aggressive litigation to collect license and other fees from alleged infringers. A review of the evidence suggests that on balance, such patent assertion entities (PAEs) (also known as "patent trolls") have had a negative impact on innovation and economic growth.
Ad blocker interference detected!
Wikia is a free-to-use site that makes money from advertising. We have a modified experience for viewers using ad blockers

Wikia is not accessible if you've made further modifications. Remove the custom ad blocker rule(s) and the page will load as expected.