Citation
Edit
U.S. Army, Operational Terms and Graphics (FM 1-02) (Sept. 2004) (full-text).
Overview
Edit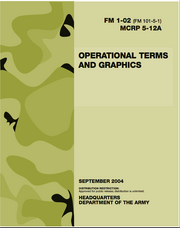 The terminology section of this manual is a compilation of doctrinally-accepted definitions that have been taken from approved manuals. One Army field manual is cited as the proponent or reference for each definition.
Ad blocker interference detected!
Wikia is a free-to-use site that makes money from advertising. We have a modified experience for viewers using ad blockers

Wikia is not accessible if you've made further modifications. Remove the custom ad blocker rule(s) and the page will load as expected.