Overview
Edit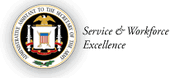 The Office of the Administrative Assistant (to the Secretary of the Army) (OAA) manages Headquarters, Department of the Army resources, provides information technology services to the greater Pentagon community, and manages the Army's historical and heraldry programs. OAA also provides Army publishing and visual information services, records management, security and safety, and religious services for a diverse customer base.
See also
Edit
Ad blocker interference detected!
Wikia is a free-to-use site that makes money from advertising. We have a modified experience for viewers using ad blockers

Wikia is not accessible if you've made further modifications. Remove the custom ad blocker rule(s) and the page will load as expected.