Overview
Edit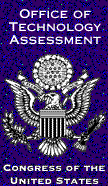 The Office of Technology Assessment (OTA) was established by Congress in 1972 to provide congressional committees with objective and authoritative analysis of the complex scientific and technical issues of the late 20th century. It was a leader in practicing and encouraging delivery of public services in innovative and inexpensive ways, including distribution of government documents through electronic publishing.
The OTA closed on September 29, 1995.
OTA documents
Edit
The following OTA documents are relevant to the subject matter of this wiki. They are listed in alphabetical order.
Ad blocker interference detected!
Wikia is a free-to-use site that makes money from advertising. We have a modified experience for viewers using ad blockers

Wikia is not accessible if you've made further modifications. Remove the custom ad blocker rule(s) and the page will load as expected.