Citation
Bryan Krekel, Patton Adams & George Bakos, Occupying the Information High Ground: Chinese Capabilities for Computer Network Operations and Cyber Espionage (Mar. 7, 2012) (full-text).
Overview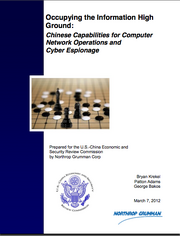 This report details how China is advancing its capabilities in computer network attack, defense, and exploitation and examines issues related to cybersecurity, China, and potential risks to U.S. national security and economic interests.
Ad blocker interference detected!
Wikia is a free-to-use site that makes money from advertising. We have a modified experience for viewers using ad blockers

Wikia is not accessible if you've made further modifications. Remove the custom ad blocker rule(s) and the page will load as expected.