Overview
Edit
The National Executive Committee for Space-Based Positioning, Navigation, and Timing (PNT) is a U.S. Government organization established by Presidential Directive to advise and coordinate federal departments and agencies on matters concerning the Global Positioning System (GPS) and related systems.
"PNT" stands for positioning, navigation, and timing. PNT is a combination of three distinct, constituent capabilities:
Positioning: the ability to accurately and precisely determine one's location and orientation two dimensionally (or three dimensionally when required) referenced to a standard geodetic system (such as World Geodetic System 1984, or WGS84);
Navigation: the ability to determine current and desired position (relative or absolute) and apply corrections to course, orientation, and speed to attain a desired position anywhere around the world, from sub-surface to surface and from surface to space; and
Timing: the ability to acquire and maintain accurate and precise time from a standard (Coordinated Universal Time, or UTC), anywhere in the world and within user-defined timeliness parameters. Timing includes time transfer.
This Committee replaced the Interagency GPS Executive Board (IGEB), which oversaw GPS policy matters from 1996 to 2004.
Figure 2 describes the national space-based PNT organization structure.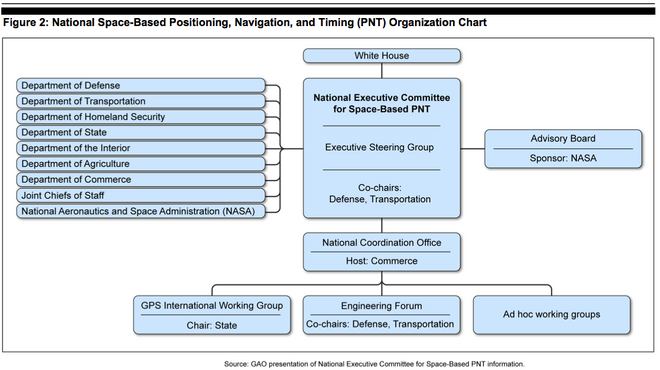 Ad blocker interference detected!
Wikia is a free-to-use site that makes money from advertising. We have a modified experience for viewers using ad blockers

Wikia is not accessible if you've made further modifications. Remove the custom ad blocker rule(s) and the page will load as expected.