Overview
Edit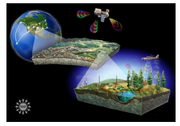 the National Ecological Observatory Network (NEON) is one of several National Science Foundation Earth-observing systems. It uses distributed sensor networks, experiments and aerial and satellite remote sensing capabilities, all linked via cyberinfrastructure into a single, scalable, integrated research platform for conducting continental-scale ecological research.
Ad blocker interference detected!
Wikia is a free-to-use site that makes money from advertising. We have a modified experience for viewers using ad blockers

Wikia is not accessible if you've made further modifications. Remove the custom ad blocker rule(s) and the page will load as expected.