Citation
Edit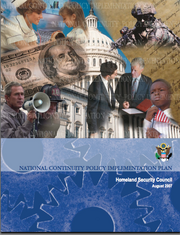 Homeland Security Council, National Continuity Policy Implementation Plan (NCPIP) (Aug. 2007) (full-text).
Overview
Edit
The Plan (identifies how the National Continuity Policy described in NSPD-51/HSPD-20 was to be translated into action. The NCPIP is a comprehensive and integrated list of directives for the federal executive branch to ensure the effectiveness and survivability of our national continuity capability. It is also an educational primer for state, local, tribal, and territorial governments and private sector partners that support the U.S.'s continuity capability.
Ad blocker interference detected!
Wikia is a free-to-use site that makes money from advertising. We have a modified experience for viewers using ad blockers

Wikia is not accessible if you've made further modifications. Remove the custom ad blocker rule(s) and the page will load as expected.