Overview
Edit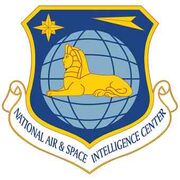 The National Air and Space Intelligence Center (NASIC) is the source of air and space intelligence for the Department of Defense (DoD) and produces integrated, predictive air, space and specialized intelligence to enable military operations, force modernization and policymaking. NASIC is a global intelligence enterprise which fulfills the needs of today's and tomorrow's warfighter, aids in shaping national and defense policy and guides the development of future weapons systems. NASIC products and services play a key role in ensuring that U.S. forces avoid technological surprise and can counter existing and evolving foreign air and space threats.
National Air and Space Intelligence Center History.[1]
Ad blocker interference detected!
Wikia is a free-to-use site that makes money from advertising. We have a modified experience for viewers using ad blockers

Wikia is not accessible if you've made further modifications. Remove the custom ad blocker rule(s) and the page will load as expected.