Citation
Edit
National Security Telecommunications Advisory Committee, NSTAC Report to the President on the Internet of Things (Nov. 18, 2014) (full-text).
Overview
Edit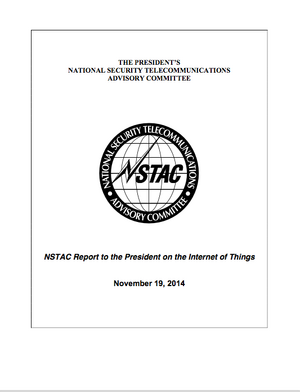 NSTAC unanimously approved a recommendation that governmental Internet traffic could get priority transmission during emergencies. The government already gets emergency priority in more traditional communications networks like the telephone system through programs such as the Government Emergency Telecommunications Service — now NSTAC is proposing a GETS for the Internet.
Ad blocker interference detected!
Wikia is a free-to-use site that makes money from advertising. We have a modified experience for viewers using ad blockers

Wikia is not accessible if you've made further modifications. Remove the custom ad blocker rule(s) and the page will load as expected.