Citation
Edit
National Security Telecommunications Advisory Committee, NSTAC Report to the President on International Communications (Aug. 16, 2007) (full-text).
Overview
Edit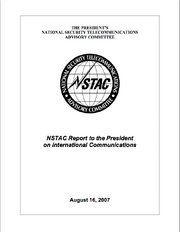 This report is the results of an examination by the NSTAC of the current international NS/EP communications environment to —
• Evaluate the present U.S. operational strategies, policies, and frameworks for international collaboration; and
• Prepare recommendations to the President to promote U.S. NS/EP interests in emerging international network security efforts.
Findings
Edit
This report found that:
Recommendations
Edit
The report recommended that the President, in accordance with responsibilities and existing mechanisms established by Executive Order 12472, direct the following:
Ad blocker interference detected!
Wikia is a free-to-use site that makes money from advertising. We have a modified experience for viewers using ad blockers

Wikia is not accessible if you've made further modifications. Remove the custom ad blocker rule(s) and the page will load as expected.