Citation
Edit
National Security Telecommunications Advisory Committee, NSTAC Report to the President on Emergency Communications and Interoperability (Jan. 16, 2007) (full-text).
Overview
Edit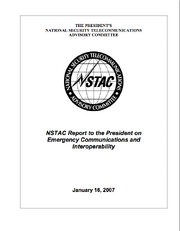 The NSTAC recommends that the President, in accordance with responsibilities and existing mechanisms established by Executive Order 12472:
– Clearly delineate the NS/EP and emergency communications roles and functions of the National Communications System, the National Cyber Security Division, and the new Office of Emergency Communications, as established by the DHS Appropriations Act of 2007, and any other DHS organization, such as the Science and Technology Directorate and the Federal Emergency Management Agency, with a role or responsibility in the area of emergency communications;
– Preserve and maintain critical NS/EP functions and capabilities that support the National leadership; and
– Ensure Executive oversight across the Federal Government for a fully coordinated, integrated, and interoperable emergency response communications function and capability.
Include Critical Elements in the National Emergency Communications Strategy (NECS) and the National Emergency Communications Plan (NECP). Incorporate the following critical elements in the development, maintenance, and execution of the NECS and associated implementation guidance, and direct the DHS and other responsible Federal agencies to incorporate the elements into the NECP:
Address Emergency Communications in the Converged Environment. To encourage responsive emergency communications capabilities in the converged environment, establish and incorporate the following capability objectives into the NECS and associated implementation guidance, and also direct the DHS to incorporate the capability objectives into the NECP:
Ad blocker interference detected!
Wikia is a free-to-use site that makes money from advertising. We have a modified experience for viewers using ad blockers

Wikia is not accessible if you've made further modifications. Remove the custom ad blocker rule(s) and the page will load as expected.